Caldo Verde is a traditional Portuguese soup, with many variations and styles.  The basic soup has potatoes, onions, and kale, though these are rarely the only ingredients.  It is common to add garlic, salt, pieces of stew beef,  pork loin, or chouriço.   Xavier calls it "Green Soup."
Miguel likes a lot of chouriço.  He sometimes makes chouriço sandwiches for breakfast.  So even though most recipes say that each bowl of Caldo Verde should have exactly one bit of chouriço, I tend to load it up.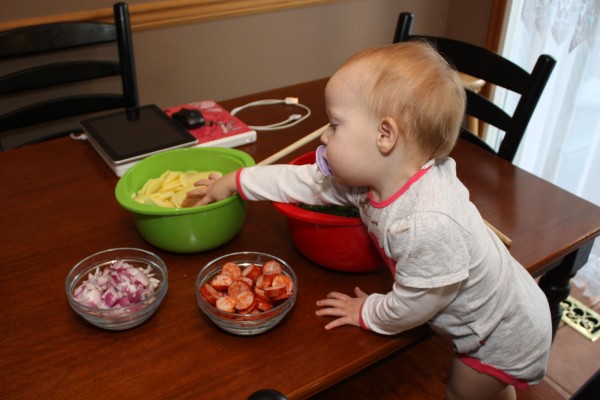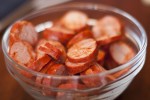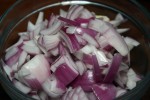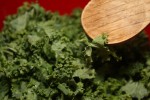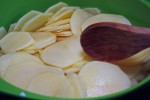 Ingredients
4 tablespoons of olive oil
1 onion minced
1 clove garlic
6 potatoes, peeled and thinly sliced
8 cups of water, chicken stock or vegetable stock
250 grams of mild or hot chouriço
2 ½ teaspoons of salt
ground black pepper to taste
1 pound kale, rinsed and julienned
Making the soup
In a large boiler pot over medium heat, cook the onion and garlic in 3 tablespoons of olive oil for 3 minutes. Stir in potatoes and cook for an additional 3 minutes making sure to stir constantly. Pour in liquid and bring to a boil. Reduce to a simmer and cook for approximately 20 minutes or until potatoes are mushy.
While potatoes are cooking, in a large skillet over medium heat cook chourico until some of the fat has rendered (approximately 10 minutes) and use a paper towel to drain.
Puree the potato mixture in a food processor or a hand blender. Stir in the sausage. Add salt and pepper. Cover and return the soup to a medium heat for 5 minutes.
Just before serving, stir kale into soup and simmer for 5 minutes or until the kale is tender and a jade green colour. Stir in the remaining tablespoon of olive oil and serve at once.
Taste test